Bible Way Milestones
We've Come This Far by Faith... and We're Still Determined to Make an Impact! - Dr. McKinley Gaither
Bible Way History
Our Newborn Church
During the later part of 1949, the Lord touched the heart one of his servants, Dr. McKinley Gaither. Approximately three years later, and after much prayer and careful deliberation, Dr. Gaither answered the call and submitted himself to the sovereign will of God to organize a Christian Church.
February 12, 1952, Dr. Gaither organized a missionary Baptist church in his home at 625 North 48th Street in Philadelphia. After following proper organizational procedures, it was suggested and accepted that the newborn church would be named "BIBLE WAY BAPTIST CHURCH," and that Dr. McKinley Gaither would be named Pastor. The original members of the Bible Way Baptist Church were Pastor & Mrs. Gaither, Bro. & Sis. Walter Davis, Bro. & Sis. Thomas Lewis, Bro. John Browner, Sis. Linnie Gaither.
The church later moved to 4034 Westminster Avenue. Pastor Gaither paid the first few months rent at this location. God continued to bless this small yet faithful congregation and Pastor Gaither's money was repaid. After that, the church always had enough money to meet the rent. Worship services continued at this location until 1956 when the property located at 3931 Lancaster Avenue was purchased for the sum of $12,000.00. In 1959 the mortgage loan papers were burned but Bible Way was growing so rapidly that it became necessary to seek larger quarters.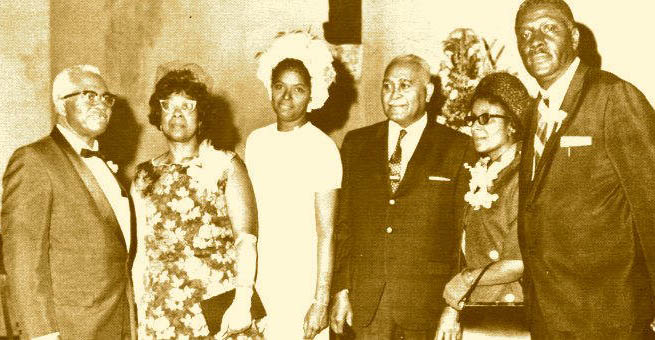 Property Acquisition
In 1961, by the power of God, Dr. Gaither and the congregation were able to purchase the property located at 52nd & Kershaw Streets. This property was valued in excess of $100,000. The ministry of Bible Way began to expand by reaching into and fulfilling the needs of the surrounding community never losing sight of our primary charge to spread the Gospel of Jesus Christ to perishing sinners everywhere.
During these joyous years over 200 hundred souls were added to the church with a large portion of that number representing candidates for Baptism and Sunday School enrollment began approaching 200 persons as well. The mortgage on this property was liquidated in 1968 as planned. It was at this time that "Stewardship Studies" were undertaken having a profound and lasting impact on the membership even to this day.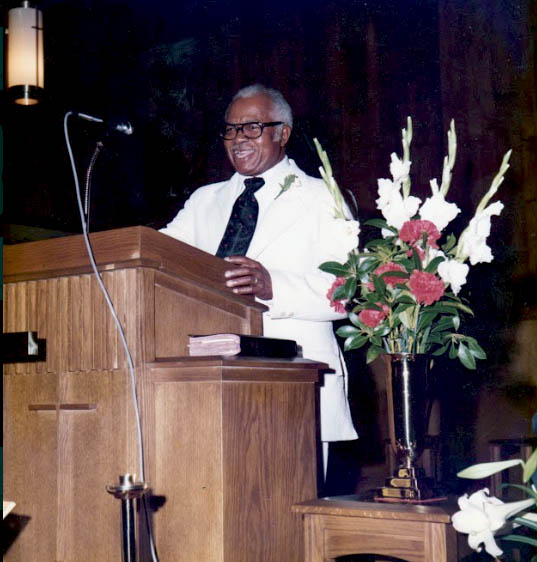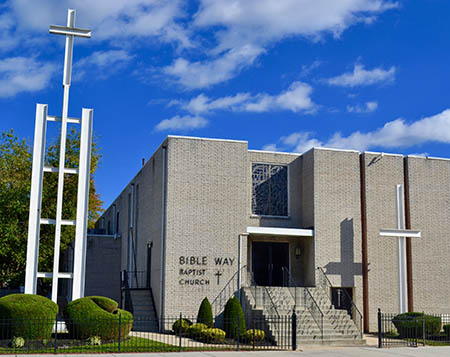 The Tragic Fire
On the night of February 14, 1971, (Pastor Gaither's Birthday), the Bible Way Baptist Church was destroyed by fire. Pastor Gaither and a handful of members stood helplessly as the church burned and was gutted by fire. Dr. Gaither stood like a soldier in an army and continued to trust God and think positive. He was far from being defeated and was quoted as having said, "We must have hit the devil too hard!"
From the night of that tragic fire and through our stay at the Thompson Street Edifice (now Little Rock Tabernacle Baptist Church), Pastor Gaither and the church officers worked diligently towards rebuilding the church. The faith and vision of Dr. Gaither was apparent as he scheduled a Ground-Breaking Ceremony for Sunday, November 7, 1971 without a financial commitment from the First Pennsylvania Bank.
The sun was shining brightly on Sunday, June 24, 1973 as if God Himself was smiling upon Bible Way. On that long-awaited morning, the congregation led by Pastor Gaither marched to the new edifice erected on the old Kershaw Street site singing "We've Come This Far By Faith."
A Time of Transition
God continued to bless the ministry of the Bible Way Baptist Church and on Tuesday, June 25, 1985, the final payment was made to First Pennsylvania Bank with three years remaining on the note.
Throughout the 1980's Bible Way joyfully praised the Lord for our many blessings and God continued to bless the church with many new members. As the congregation adjusted to the new facilities, the congregation also continued to grow spiritually while embracing the mission and vision of God for the church.
The 1990's brought transition to Bible Way. It was during these years that Pastor Gaither decided to retire from the Pastorate. After having founded this wonderful local church and serving as her first pastor for forty-two years, a "Victory Celebration" was held on December 4, 1993. We were not only honoring Dr. Gaither's lifetime of faithful, committed service but we were also celebrating a man whose life modeled his obedience to serving God and the church. Dr. Gaither made the decision to pass the baton to someone who could lead Bible Way into the next century. The Lord called Dr. Gaither from labor to reward on January 6, 1999. Our dear Founder's wife, Sis. Scotia Gaither has also followed her husband home to be with the Lord.
Pastor Damone B. Jones, Sr.
Prior to Dr. Gaither's passing, Pastor Damone B. Jones, Sr., was called to be the second Pastor of the Bible Way Baptist Church in September of 1993. Installation Services were held on Sunday, January 31, 1994, to which the theme was: "The Runners Change But The Race Remains the Same!"
We praise God for sending Pastor & Lady Jones to lead us! Pastor Jones is a man of God who has proven faithful and is a great organizer. In a short amount of time, Pastor Jones has mastered the art of pastoring. In his first year, 235 souls were added virtually every year after that no less than 200 souls were added. Over forty-one ministries operate from the Bible Way Baptist Church, all designed to meet the diverse needs of the church and community. Under Pastor Jones' leadership, the Outreach Kitchen, Bible Institute, Computer Ministry, A.C.T.S. Incorporated, Prison Ministry, Community Service Program a 7:30am Worship Service and periodic Wednesday Evening "Jamb for the Lamb" Praise and Worship Services were added to name a few of those ministries.
Pastor Jones is also very proud of his seven spiritual sons in the ministry who began pastoring their own churches during his tenure. (Pastor Clarence Washington, Millennium Baptist Church; Pastor Willie Singletary; City of Refuge Church; Pastor Raymond Harris, Jr., Christ Tabernacle Baptist Church; Pastor Robert J. Fontell, Jr., The Calvary Christian Church; Pastor John C. Gblah, Agape International Baptist Church; Pastor Gregory A. Johnson; Greater St. Matthew's Independent Church; and Pastor William Davis who serves as the Assistant Pastor of the Service Baptist Church).
Lady Melissa Jones has been a major contributor to the ministry of the Bible Way Baptist Church as she serves alongside her husband. "Lady M" as she is affectionately called, designed and implemented a Women's Discipleship Ministry, organized our first Women's Retreat, our first Women's Revival and Children's Church just to name a few of her accomplishments. In May of 2005, Lady Melissa made academic history when she graduated from the Philadelphia Biblical University in Langhorne, PA, becoming the 'only' person ever to complete a Master of Science in Christian Counseling and two professional certifications in the history of the university. Lady Melissa also serves the Bible Way Family by providing professional counseling services.
In May of 2010, Pastor Jones completed his formal studies and graduated from the Palmer Theological Seminary in Wynnewood, PA (formerly Eastern Baptist Theological Seminary) with a Doctor of Ministry Degree in The Renewal of the Church for Mission.